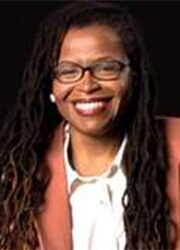 Dr. Andrea Roberts is an Assistant Professor of Landscape Architecture and Urban Planning and the Texas Freedom Colonies Project Director. Her research frames planning & historic preservation practices as avenues to social justice. She holds a Ph.D. in community and regional planning from The University of Texas at Austin (2016), an M.A. in government administration from the University of Pennsylvania (2006), and a B.A. in political science from Vassar College (1996).  Her 14 years' experience in community development and government administration inform her efforts to move disappearing African American communities–facing sprawl, gentrification, and resource extraction –from the margin to the center of public discourse.  In 2014, she founded The Texas Freedom Colonies Project, a research and social justice initiative. Through its student researchers, ethnographic methodologies, community-based collaboration, and online Atlas, the Project makes visible to the public, practitioners, and policymakers disparate ecological and development impacts on historic Black communities. She is also the Consultant/Owner of Freedom Colonies Project, LLC, which provides civic art & landscape design project support, DEI program development for preservation organizations, public speaking, and research design.     
 She's published in The Journal of Planning History, Buildings and Landscapes, the Journal of the American Planning Association, the Journal of Community Archaeology and Heritage, Planning Theory & Practice, and Environmental Justice. She has received awards for her engaged scholarship from The Vernacular Architecture Forum and the Urban Affairs Association.  
 She is a member of Texas' State Board of Review, which advises Texas' SHPO concerning National Register nominations and the Mellon Foundation's National Monument Audit Advisory Board. Dr. Roberts is a 2020-21 Whiting Public Engagement Fellow and was a 2020 Visiting Scholar at Yale's Gilder Lehrman Center for the Study of Slavery, Resistance, Abolition. She is currently writing a book about grassroots, Black historic preservation practice for The University of Texas Press. 
<- Back to Speakers page