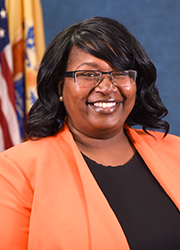 Kimberly Holmes
Kimberly Holmes graduated from Montclair State University and received a Bachelor of Arts degree in Political Science with minor concentrations in Public Administration and Paralegal Studies. She furthered her education by receiving her Jurist Doctorate from Seton Hall University School of Law in 1993 and was licensed to practice law in December of 1993. She has been a practicing attorney for 26 years. In 2011, Kimberly earned a Masters of Divinity from Drew University and in 2017, Kimberly earned her Doctorate in Ministry from Drew. 
She has served as a municipal prosecutor in East Orange, and as an assistant prosecutor/section chief for the Bias Crimes and Community Relations Unit of the Bergen County Prosecutor's Office. She was a member of legal counsel for the State Commission of Investigation where she conducted confidential investigations about waste, fraud and abuse of taxpayer dollars. Kim was the Chief of Staff for the Division of Rate Counsel for 12 years. She was also an Assistant Corporation Counsel for the City of Newark specializing in Employment Law/Labor Relations. 
She is a member of the Essex County Bar Association and is the Chaplain for North Jersey Alumnae Chapter of Delta Sigma Theta Sorority, Incorporated. In September 2010, she was appointed by the NJ State Supreme Court as an attorney member to the Fee Arbitration Committee. In 2012, the Chief Justice of the NJ State Supreme Court appointed Kimberly as the chair of District 5A for Essex County, NJ. She served as the district chair from 2012-2014. Kimberly also served as an attorney member of the State Supreme Court Ethics Committee for district 5A. In that capacity she conducted ethics investigations concerning allegations of attorney misconduct. 
<- Back to Speakers page