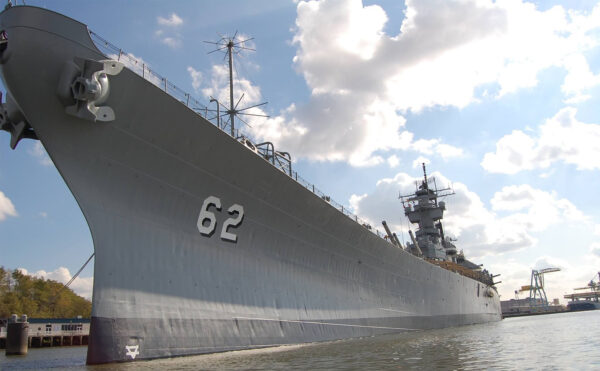 Battleship New Jersey
The Battleship New Jersey, the nation's most decorated battleship, is an 887-foot long, 45,000-ton ship built at the Philadelphia Naval Shipyard and commissioned on May 23rd, 1943. The battleship saw action during World War II in the Pacific Theatre at Iwo Jima and Okinawa as flagship for Admirals Spruance and Halsey. The ship was also active during the Korean and Vietnam conflicts. The USS New Jersey was decommissioned in 1991 and later moved to Camden where it is now open as a floating museum where visitors walk in the steps of the sailors who served on the ship.
While you're in the area: Just down the street, you can step back in time at the humble dwelling of Walt Whitman, where visitors from around the world come to experience the last worldly surroundings of America's great "Poet of Democracy." Located 15 minutes south is the Peter Mott House, the oldest house in Lawnside, NJ and a station along the Underground Railroad.
Where to eat: Eat like a sailor and grab a bite to eat at the Chow Line, located on the Battleship New Jersey. The restaurant is open daily during the summer months.