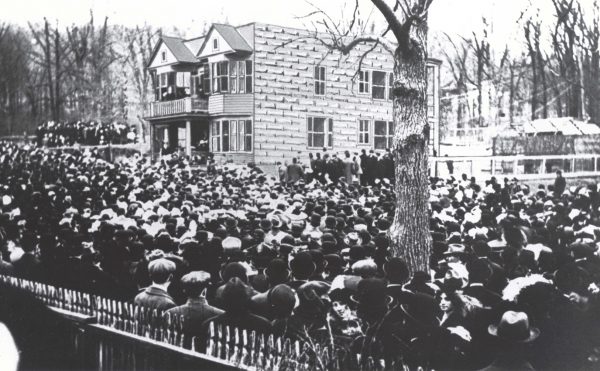 Botto House /
American Labor Museum
The American Labor Museum is located in the Botto House, a National Historic Landmark in Haledon, NJ. Just miles from the Great Falls, it is where strikers from the silk mills congregated and rallied after being forced out of doing so in Paterson. Maria and Pietro Botto immigrated to this country from Italy.
They found work in the silk industry in Paterson and purchased a home in nearby Haledon, where they rented the second floor to other immigrants. During the 1913 Paterson Silk Strike, the Bottos offered their home as a gathering place for the 15,000 strikers to hear rousing speeches by leaders of the Industrial Workers of the World. The strike was turning point in U. S. labor history.
Today, the museum advances the public understanding of the history of work, workers and the labor movement throughout the world, with special attention to the ethnicity and immigrant experience of American workers. It is the first Italian American site to be designated as a National Historic Landmark.
Experience the restored, 1908 home through guided tours of the furnished period rooms and the Botto family's Old World gardens featuring a grape arbor, root cellar, bocce court, and cold-frame garden beds. View the historic balcony from which union organizers and supporters such as Upton Sinclair addressed the thousands of striking men, women and children in 1913. View the permanent exhibition featuring historic photographs of workplace conditions, wage scales, picket lines, strikers' meetings, and the organizers of the Industrial Workers of the World. There are also changing exhibits on an array of labor-related topics. The Museum's library is available to the general public and free lending privileges are offered.
Where to eat: Worked up an appetite at the Labor Museum? Head over to Jimmy Geez Sports Bar & Grill in Haledon, which features a diner-style menu, daily and happy hour specials, and a large selection of craft and seasonal beer on tap. Another option just a little further up the road in North Haledon is the Cinco de Mayo Bar & Restaurant, a hidden gem serving up classic Mexican food prepared daily with fresh ingredients.