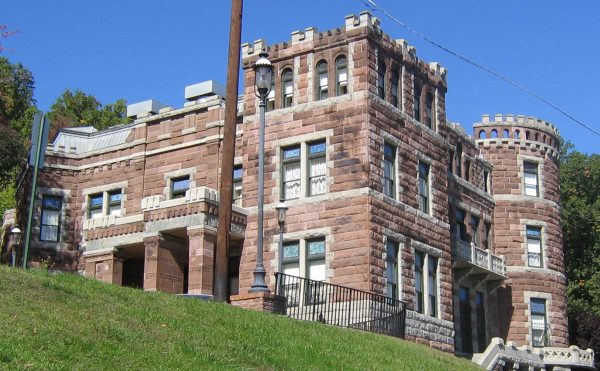 Garret Mountain Reservation /
Lambert Castle and Lambert Tower
Garret Mountain Reservation, a 568-acre recreational area, situated more than 500 feet above sea level provides sweeping views of northern New Jersey and the New York City skyline. Operated by the Passaic County Parks Department, the park offers a wide range of recreational activities and facilities, including an equestrian center, athletic fields, fishing, picnic grounds, jogging paths, and trails for cross country skiing, hiking and running.
The historic Lambert Castle and its observation tower are also located within the reservation and are open to visitors. Constructed in 1892 as the home and showplace of silk manufacturer Catholina Lambert, the 53-acre estate originally included the mansion, gatehouse, carriage-green house complex, and formal Italianate gardens. Four years later, Lambert added an art gallery and observation tower.
Lambert was born to working class parents in England in 1834 and immigrated to America with his brother at the age of 17. He settled in the Boston area and was hired as a bookkeeper for the silk firm of Tilt and Dexter. Tilt withdrew from the firm, and Dexter loaned Lambert the necessary funds to buy into the partnership. The firm relocated to Paterson, which was emerging as a world-class silk manufacturing center. The business thrived, and Lambert decided to build a new home befitting his station. "Belle Vista" was constructed of sandstone, much of it quarried from Garret Mountain. The interior was organized around a three story open atrium called the court. It was here that Lambert displayed many of his prized European and American paintings. In 1914, financial problems forced Lambert to mortgage his estate and art collection. Several hundred items were auctioned at the Plaza Hotel in New York City. Lambert died in 1923, a few weeks shy of his 89th birthday. His son Walter inherited the castle and sold the furnishings and later the castle itself for $125,000 to the City of Paterson. The castle was purchased by the Passaic County Park Commission in 1928. In 1934, the Passaic County Historical Society established its museum and library at the site. It was rededicated in 2000 after an extensive restoration. Restoration of the tower was completed in 2014 and visitors can enjoy panoramic views from the top.