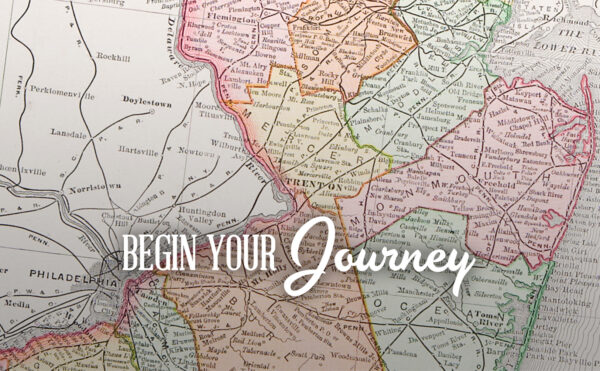 Journey Through Jersey: Mercer County through the Centuries
We are excited to welcome you to Mercer County for the 2022 New Jersey History and Historic Preservation Conference. The conference moves around every year, in part to highlight the variety of history and historic sites New Jersey offers. We hope you take this chance to learn about, and experience for yourself, the history of Mercer County and the City of Trenton. For more information about historic sites throughout the state, be sure to visit www.journeythroughjersey.com, an award-winning website dedicated to heritage tourism in the Garden State.
History of the region
From the Delaware River of Washington Crossing State Park to the fields of Princeton Battlefield, Mercer County offers a wide array of American Revolutionary attractions that conference attendees can take advantage of while in the area.
Formed in 1838, Mercer County is located in the central part of the state and shares a border with Pennsylvania. Some of the most pivotal battles and the turning points of the American Revolution transpired in the City of Trenton, Princeton Township, and Hopewell Township. Some notable figures of America's past are also a part of Mercer County's history. Former President Aaron Burr and President Grover Cleveland are buried in Princeton Cemetery, and Woodrow Wilson was the 13th President of Princeton University. Mercer County is also the famed landing spot of Orson Welles Martian invasion in his famous radio address of "War of the Worlds" in 1938.
Trenton, the county seat, and state's capital was first settled as the Falls of Delaware in 1679 by Quakers. By 1719, the town adopted the name Trent-town after the Scottish landowner and founder, William Trent. The name was later shortened to Trenton, and the City of Trenton was established within Trenton Township in 1792. During the American Revolution, George Washington secured his first military victory in Trenton in 1776. After the war, Trenton was briefly named the capital of the United States in November and December of 1784.
Today, popular sites in Mercer County include the Old Barracks Museum, the only remaining barrack structure in New Jersey; Princeton Battlefield, the site of one of the fiercest battles of the American Revolution; Washington Crossing State Park, the location of General George Washington's famous crossing of the Delaware River on Christmas Day in 1776; the William Trent House Museum, the oldest house in Trenton built in 1719 and residence to three governors; and Updike Farmstead, one of the last remaining farms in Trenton and along the route followed by the Continental army on their way to engage the British at Princeton Battlefield. These sites and others tell the story of Mercer County's valuable contributions not only to New Jersey, but also to American history.