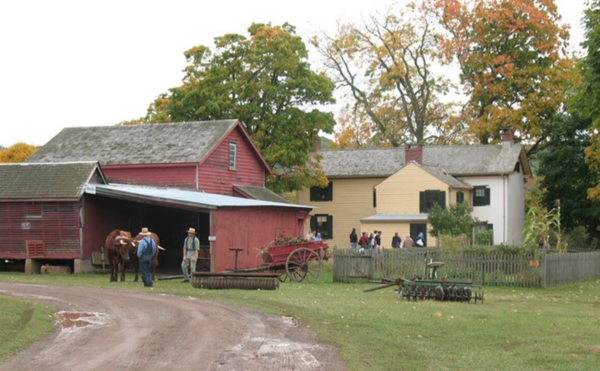 Howell Living History Farm
Howell Living History Farm has served as a working farm for over 285 years. During its 45 years as a property of Mercer County, the farm has grown from a 126-acre tract of donated farmland to a 267-acre historical park where the agriculture and lifestyle of earlier times is shared with school children and annual visitors alike. As a living history farm, it continues to operate on a full, working scale by raising crops and livestock, and using the house and barns as people did in earlier times. Horse-powered field and transportation equipment is used to farm 126 acres filled with corn, oats, wheat, and hay.
The Mercer County Park Commission preserved and restored the farm that was listed on the National and State Registers of Historic Places in 1978. Due to public appreciation and state and national recognition of its award-winning programs, the Pleasant Valley National Rural Historic District was established in 1991 and encompasses Howell Living History Farm. Key properties within the district were later acquired by Mercer County and are maintained and operated by Howell Farm as The Pleasant Valley Historical Park. Visitors can enjoy the park by touring its one-room schoolhouse, late Revolutionary War period farmhouse, cemetery, and archaeological sites of a blacksmith shop, gristmill and two sawmills. Each year, more than 65,000 visitors learn about the seeds, heritage breeds, and farming methods it preserves and the ways they are still used to improve agriculture today.
Howell Farm's calendar reflects the cycles of a fully functioning, working farm in Pleasant Valley during the years 1890-1910. Programs enable visitors to see real farming operations up close, speak with farmers and interpreters, and in many instances lend a hand.