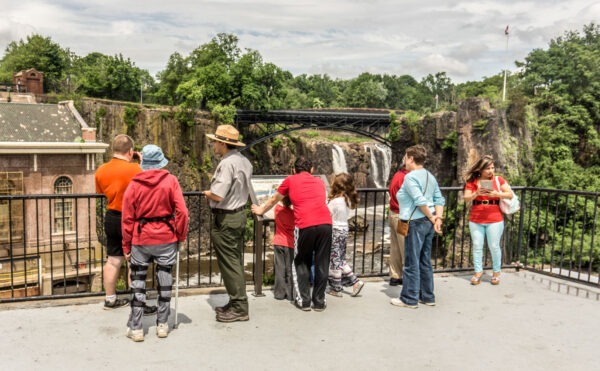 Paterson Great Falls National Historical Park
America's 397th national park is also one of its newest. Paterson Great Falls National Historical Park was established in 2009 to protect and interpret the innovative waterpower system and natural features of the Paterson Great Falls on the Passaic River, which powered America's first planned industrial city. In 1778, Alexander Hamilton visited the falls and was impressed by its potential for industry. Later when Hamilton was the nation's Secretary of the Treasury, he selected Paterson as the first planned industrial city which he called a "national manufactory." In 1791, Hamilton helped found the Society for the Establishment of Useful Manufactures (S.U.M.), a state-chartered private corporation, to fulfill this vision. S.U.M. would ultimately name the growing city of Paterson after New Jersey governor, William Paterson, in appreciation of his efforts to promote the society. Paterson grew to be a major industrial center, where Colt weapons, railroad locomotives, and textiles, most notably silk, were produced. The famous Silk Strike of 1913 drew major labor leaders to Paterson and contributed to changes in labor law and practices.
While you're in the area: Just down the street is the Paterson Museum, organized in 1925 by the City of Paterson Library's Board of Trustees. The museum is located in the restored Thomas Rogers Locomotive Erecting Shop in 1982 and features interpretive exhibits on local archaeology, industrial history, and mineralogy. Located five minutes away, Lambert Castle and its observation tower are located within the Bear Mountain Reservation. Constructed in 1892 as the home and showplace of silk manufacturer Catholina Lambert, the 53-acre estate originally included the mansion, gatehouse, carriage-green house complex, and formal Italianate gardens.
Where to eat: Looking to curb your appetite? Visit the Barrow House, a Colonial-era farmhouse featuring New American plates paired with beer, wine, and cocktails. If you are looking for no frills, stop at Rutt's Hut, known for their deep fried hotdogs.