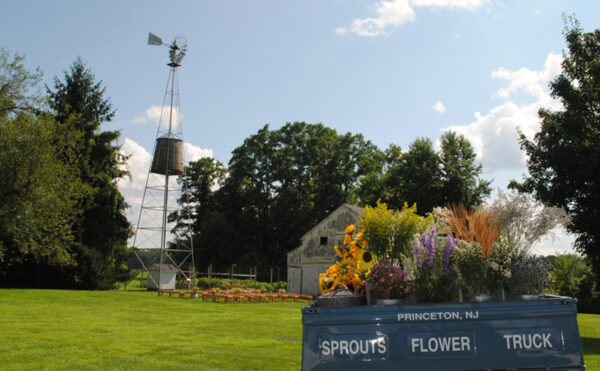 Updike Farmstead
Updike Farmstead, headquarters of the Historical Society of Princeton, sits in the Princeton Battlefield/Stony Brook Village Historic District and is listed on the State and National Registers of Historic Places. Benjamin Clarke, an early inhabitant of the Stony Brook settlement, which would later become Princeton, first owned the land as part of a 1200-acre parcel he purchased in 1696. The Farmstead is along the route followed by Continental troops on their way to engage British soldiers at the neighboring Thomas Clarke farm at Princeton Battlefield.
The original Benjamin Clarke property, which was divided up over time, remained in the hands of his descendants for over 150 years. In 1892, George Furman Updike, Sr. acquired approximately 190 acres of the original farmland and added buildings to the site, including a large barn. In 1969, the Updike family sold 184 acres of the property to the Institute for Advanced Study. Brother and sister, Stanley and Sarah Updike, continued to live on the remaining six acres until their deaths in 2002. The property was purchased by the Historical Society in 2004. Today, its six acres, surrounded by preserved farmland, consists of a late 18th/early 19th-century farmhouse, an 1892 barn, outbuildings, a restored windmill, and an organic garden. The property is one of the last surviving farms in Princeton.
At the heart of the Historical Society's service to the community are its museum and archival collections which paint a vivid picture of daily life and notable events from early settlement to the 21st-century. The archives are available to scholars, students, genealogists, architects, local business people, and the general public.
While you're in the area: Just next door is the Princeton Battlefield, the site of what is considered to be the fiercest fight of its size during the American Revolution and where Washington got his first victory against the British Regulars on the field. In the heart of Downtown Princeton is the Bainbridge House. Constructed in 1766 on its existing site, it is one of the oldest buildings in Princeton and one of the best preserved examples of mid-Georgian architecture in the region. Continue 10 minutes north to Rockingham Historic Site, General George Washington's final Revolutionary War headquarters where he received long-awaited news – the final version of the Treaty of Paris had been signed the colonies were no more.
Where to eat: Interested in learning more history while you satisfy your hunger? Stop into the Nassau Inn, home to the Yankee Doodle Tap Room. Enjoy modern American cuisine complemented by 19 craft beers on tap, wine, and seasonal cocktails. Looking for more history? The Peacock Inn dates back to the 1700s, hosted members of the Continental Congress, and was used as a Prohibition-era speakeasy. The Colonial-style hotel restaurant offers brunch, dinner, and afternoon tea.