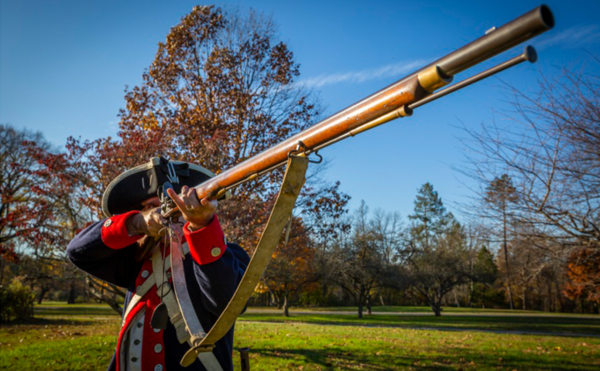 Washington Crossing State Park
Situated along the banks of the Delaware River, Washington Crossing State Park, commemorates the location of a pivotal event in the American Revolution, General George Washington's clandestine crossing of the river on Christmas Day 1776.
By December of 1776, a dispirited Continental Army, cold and hungry from a long winter and a series of defeats, crossed the Delaware River at Johnson's Ferry in the dark of night. At 4 am, they began their march to Trenton where they defeated the Hessian troops in an unexpected attack. This win turned the tide of battle and was quickly followed by wins at the Second Battle of Trenton on January 2, 1777, and the Battle of Princeton on January 3, 1777.
Today, a visitor center and the Johnson Ferry house tell the story of the crossing, the war, and life along the Delaware at the time of the Revolution. The Park also features hiking paths, annual events, and interpretive programming.