Welcome to the New Jersey History and Historic Preservation Conference:
FUN AND FURY
Letter from the Lt. Governor Sheila Y. Oliver
Welcome attendees to the 2023 New Jersey History and Historic Preservation Conference. It is my utmost pleasure to extend a warm welcome to each of you as we gather in Atlantic City to celebrate, uphold, and continue to discover the rich history of our beloved Garden State.
I believe that Theodore Roosevelt's statement from his Charter Day Address at Berkeley, CA in 1911 still resonates today. He said, "I do not believe that any man can adequately appreciate the world of today unless he has some knowledge of–a little more than a slight knowledge–some feeling for and of–the history of the world of the past."
While I am unable to be present with you, please know that I am a strong supporter of the collective commitment to preserve our current historic landmarks. New Jersey holds a unique place in our nation's history, from the revolutionary battles fought on its soil to the groundbreaking inventions and cultural contributions made by its residents. In 2026, we will mark the 250th anniversary of the signing of the Declaration of Independence and creation of our democracy.
Our state's historic landmarks serve as windows into the past, offering us invaluable insights into the struggles, triumphs, and heritage that have shaped our identity. Preserving these landmarks is not only a matter of reverence for our history but also a responsibility we owe to future generations. The Historic Trust awarded over $15 million in historic preservation grants this past year. Their funding comes from the Corporate Business Tax dedication along with Green Acres and Farmland preservation. This is a unique formula and puts New Jersey in the lead nationally for stable funding.
However, the theme of this year's conference, "Fun and Fury," frames the event with the harsh reality that the consequences of climate change are threatening our cultural heritage. As our climate continues to change, we are witnessing rising sea levels, increased instances of extreme weather events, and accelerated erosion of our coastal areas. These changes pose significant threats to our historic structures, many of which are in vulnerable regions. It is incumbent upon all of us, as stewards of New Jersey's past, present, and future, to take proactive measures to safeguard our historic landmarks against the growing threats. We need to focus on the future to preserve the past. As we acknowledge the challenges we face, I am confident that collectively, we will develop innovative strategies that ensure the preservation and resilience of our cherished sites.
Looking to the future also brings an evolving mission to the New Jersey Historic Trust as it advances historic preservation for the benefit of the state's diverse, under-represented population today and for its future generations. The Board of Trustees of the Historic Trust will adopt a new Strategic Plan at their June 21 Board meeting to guide their preservation efforts in the coming years. In cooperation with the State Historic Preservation Office, the Trust plans to increase the number of New Jersey sites related to under-represented history on the New Jersey and National Register of Historic Places.
Toward that effort, the Trust is funding a study of the civil rights movement in Camden, to document the important meetings and events that helped to shape the future of the movement. The Civil Rights Movement is now over 50 years old. This study will lead to the physical locations where important events occurred. With this documented information, we will likely uncover new places of importance and places that should be preserved.
It's important to state that heritage tourism is a big part of New Jersey's economy. A recent economic impact study indicated that – before the pandemic – heritage tourists contributed over 7 percent of all tourism revenue in New Jersey. This amounts to $3.6 billion in visitor spending and supports roughly 50,000 jobs – both at historic sites and because of visitation to historic sites. We also know that this is an area of New Jersey's economy that has a lot of room for growth. The semi-quincentennial celebration in 2026 will hopefully pave the way for a greater focus on the historic tourism business and its economic benefits to companies of all sizes across the Garden State.
Through education, heritage tourism, stewardship, and financial investment programs, the Trust saves New Jersey's heritage and strengthens its communities. Thank you for your work and dedication to excellence in keeping history alive and strategizing and planning to preserve the past for future generations. I wish you all a fun adventure in learning and exploration here in Atlantic City.
Sincerely,
Lt. Governor Sheila Y. Oliver
Commissioner, Department of Community Affairs
 —————————————————————-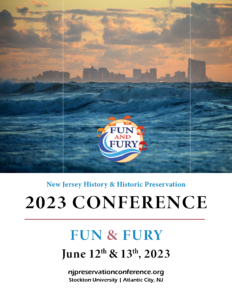 Click here to view the official conference program! 
Information on sessions, speakers, registration, and sponsors will be updated on a regular basis, so check back often, sign up for emails, and follow us on Twitter, Facebook, or Instagram for the latest.  
We look forward to seeing you in June!  
~The Conference Planning Committee