June 12 & 13, 2023 | Atlantic City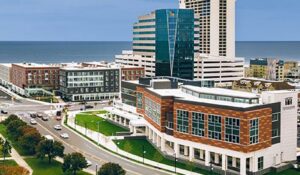 The conference will utilize the following buildings: 
     Stockton University Atlantic City
      – June 12 & 13 – workshop, sessions, and closing reception
     Boardwalk Hall
      – June 12 – opening reception
     The Tropicana
      – June 13 – lunch and keynote speaker
Please note: We are utilizing multiple buildings for the conference. Please familiarize yourself with the area ahead of time and be prepared to walk between buildings. We will provide transportation on June 13 from Stockton to the Tropicana and back.  
Directions 
The conference will be hosted at Stockton University Atlantic City located at 3711 Atlantic Avenue, Atlantic City, NJ 08401.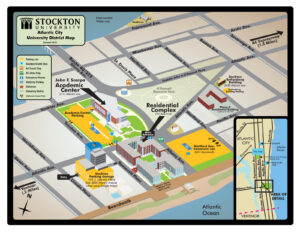 If you plan to travel via public transit, please utilize the following resources:  
Parking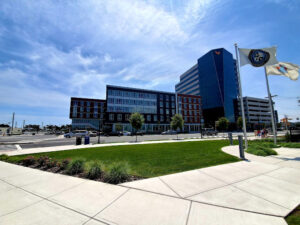 Parking is available in the Stockton University Garage located on Atlantic Avenue between Roosevelt and Lincoln Place. The parking rates are as follows: 0-2 Hours, $5; Additional Hour, $1/hr; Maximum Daily, $15.  
Additionally, parking is also available in the Hartford Avenue Commuter Lot located on Pacific Avenue between Hartford and Albany Avenue. The parking rates are as follows: Weekdays, $5; Weekends, $10 but are subject to change up to $25 depending on demand and [major Atlantic City] events.   
Hotels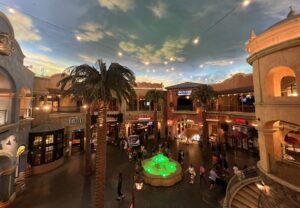 The Friends of New Jersey Heritage arranged for discounted rates at the Tropicana Atlantic City. These rates are LIMITED and available on a first-come, first-served basis, so book your room early!  
The deadline to book your hotel using the special conference rate is Saturday, May 13, 2023. 
Group name: Historic Preservation Conference 
Group code:  ST06HP3 
Book your stay by calling 1-888-516-2215 (8am-2am EST, 7 days a week) or by visiting https://book.passkey.com/go/ST06HP3. 
Accessibility
Stockton University's ADA accessible entrance is located at the front of the building from the parking lot. For specific accessibility questions, please contact New Jersey Historic Trust staff member Vito Scocozzo at (609) 913-4441 or vito.scocozzo@dca.nj.gov. 
The Tropicana offers ADA accessible parking and hotel rooms. For specific accessibility questions, please contact New Jersey Historic Trust staff member Jennifer Boggs at (609) 913-4443 or jennifer.boggs@dca.nj.gov.